Silber Philarmoniker 2009, 1x Original-Tube = 20 x 1 Unze Feinsilber = 622g, 99,9% Ag

TOP auction
Description
Silber Philarmoniker 2009, 1x Original-Tube = 20 x 1 Unze Feinsilber (Ag)


Die bewährte Silber-Anlagemünze, 20 Stück = 20 Unzen Feinsilber = 622g, 99,9% Ag. Zustand wie verausgabt in Original-Tube.
Privatverkauf.
Achtung:Verkauf an nicht geprüfte Mitglieder nur bei mindestens 20 positiven Bewertungen und 99% positiv, sonst Stornierung (ggf. anfallende Kosten sind vom Käufer zu tragen)!

Zahlungsart: Überweisung auf dt. Bankkonto. Zahlung innerhalb von 3 Werktagen nach Auktionsende, sonst Stornierung (ggf. anfallende Kosten sind vom Käufer zu tragen)!

Versand: Versicherter Versand nur innerhalb Deutschlands via DHL (4,99 EUR). Kein Versand an Packstationen! Versand umgehend nach Zahlungseingang.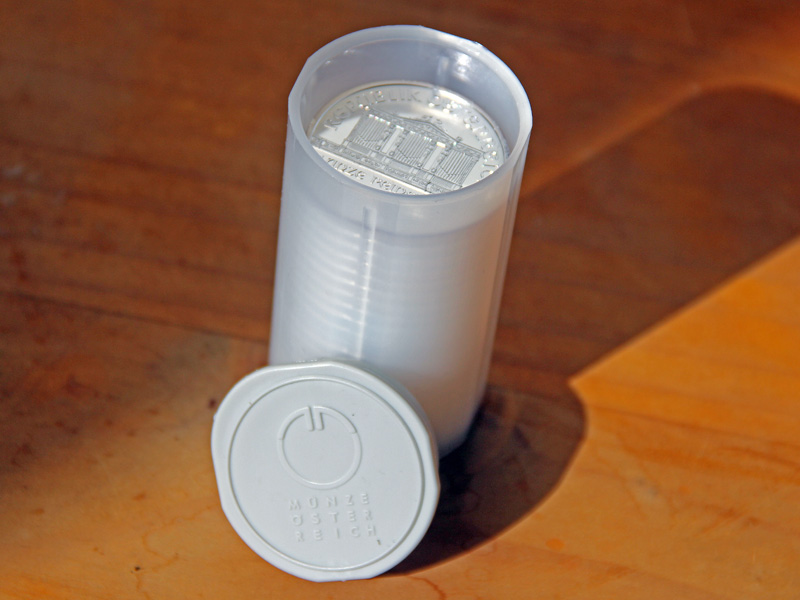 Bitte beachten Sie auch meine anderen Auktionen und sparen Sie Versandkosten durch gebündelten Versand!
Please consider also my other auctions and save on shipping costs via combined shipment!

Privatverkauf aus eigener Sammlung. Keine Gewährleistung, aber Kulanz. Die angegebenen Erhaltungsgrade sind meine subjektive Einschätzung; maßgeblich sind die Fotos.
Private sale from own collection. No warranty, but good will. The description of the condition of the items is based on my subjective assessment; relevant are the actual pictures.

Zahlung via Überweisung auf dt. Bankkonto oder Bitcoin. Kein Paypal. Versand umgehend nach Zahlungseingang.
Versand weltweit via Deutsche Post oder DHL nach Wunsch und auf Risiko des Käufers. Es werden stets nur die tatsächlich anfallenden Versandkosten berechnet (abhängig von Gesamtgewicht und Versandart). Der in der Auktion angegebene Wert dient der Orientierung und bezieht sich auf die typischen Versandkosten für den unversicherten Versand eines einzelnen Artikels innerhalb Deutschlands.
Payment via wire transfer to German bank account or Bitcoin. No Paypal. Shipping immediately after receipt of payment.
Shipping worldwide via German Post or DHL according to preferences of the buyer. The buyer bears the risk of shipping. Billed are actual shipping costs only (depending on total weight and shipping mode). The indicated shipping costs of the auction are for orientation purposes and refer to the typical shipping cost for an uninsured shipment of a single item inside Germany. Cheapest international shipping options according to total weight of shipment (not insured and only available if max. letter size is not exceeded!): < 20g: 1.10 EUR / < 50g: 1.70 EUR / < 500g: 3.70 EUR.
Country / Region:
78464 Konstanz, Germany
Shipping and Handling:
Buyer pays shipping, Domestic shipping only (Germany)
Accepted payment methods:
Wire transfer
Start price:

1,00 EUR

Start time:
13. May 2019 23:21:02
End time:
16. May 2019 21:15:39
Category:
Gold, Silver, Platinum > Silver > Europe > Austria
Gold, Silver, Platinum > Silver > Germany

Item number:
2941673
Page view counter:
346

Copyright 2001-2020, Muenzauktion.com. Alle Rechte vorbehalten.
Mit der Benutzung dieser Seite erkennen Sie die Muenzauktion Nutzungsbedingungen an.
Muenzauktion übernimmt keine Haftung für den Inhalt verlinkter externer Internetseiten.

(Für die neueste Version klicken Sie bitte auf die Schaltfläche Neu Laden/Aktualisieren Ihres Browsers)